Inverter AC is the new trend these days as it makes the AC system very efficient. But to make the most out of it, you also need to install the best stabilizer for a 1.5-ton inverter AC. This stabilizer will help in providing better safety and power backup for your home or office AC. There Are Many Types of stabilizers in the market to finding the best stabilizer is a very difficult task. So in this blog, I'll tell you about some top-rated stabilizers for 1.5-ton inverter AC and exactly why you need to install them in your home or office building.
Reason To Install the Stabilizer for Inverter AC
The stabilizer is a must for the Inverter AC system. It prevents power fluctuations and maintains the constant voltage supply to your inverter air conditioner. It also enhances its life by ensuring that proper voltage is supplied to the components inside an AC.
5 Best Stabilizer for 1.5-ton Inverter AC
1. Our pick
The Best Stabilizer for 1.5-ton Inverter AC in India
• LED Indicator
• Useful for all Applications/ Electronics
• Wall Mounting Cabinet Design
• Latest IC Technology
V-Guard VG 400 stabilizer for 1.5-ton AC is a power conditioner that prevents voltage fluctuations and spikes from damaging your appliances. The integrated circuit technology ensures a consistent flow of current in the system, keeping all electrical appliances protected. Built-In Thermal Overload Check has been included to avert the breakdown of the motor and overheating. Intelligent Time Delay System provides quick start-up upon power cut and gives delayed restart when power supply resumes within 3 minutes. It works with 15amp (170-270v) capacity and comes with a warranty of 3 years on material and workmanship defects.
What we like
This stabilizer has Integrated circuit technology
Its circuit technology provides a clean flow of electricity to all appliances
One of the most energy-efficient stabilizers available
Flexible mounting design
2. Runner up
The Best Stabilizer with Automatic voltage display technology
• 100% copper coil
• Time delay system
• Low and high voltage cut-off range
• They provide a digital display
Microtek EM4090 Automatic Voltage Stabilizer has a new digital display that shows the current voltage, frequency, efficiency and consumption. This automatic voltage stabilizer is specially designed to work faster to stabilize the fluctuations in power supply. It is based on 'Save Power Technology' and has many unique features which enable them to give high performance and better reliability during frequent power cuts and voltage fluctuations, ultimately saving you electricity. This model also features overload protection, short circuit protection, low voltage lockout, thermal shutdown with auto-restart after cool down,
What we like
Good quality product. 100% copper coil.
This stabilizer comes with a digital display
It works faster to stabilize the fluctuations in the power supply
It can save electricity and improve efficiency in power consumption
3. Premium choice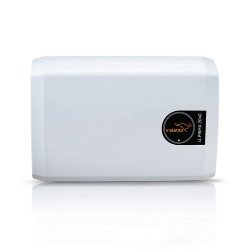 One of the best Stabilizer with Advanced Micro-Controller
• High-quality insulation
• Over-voltage protection
• Over-temperature protection
• Intelligent load-sensing design
V-Guard Inverter Stabilizer i4 Prima 2040 stabilizes the voltage during power fluctuations and maintains the output voltage at a constant level. This stabilizer comes with a microprocessor that automatically adjusts the frequency and pulse width modulation (PWM) of the thyristor valves in accordance with the input voltage. The device has an input voltage cut-off feature that prevents damage to the compressor when there is a sudden drop in voltage. Advanced Thermal Protection System prevents overheating of the appliance which can cause severe damage. It also has a White ABS Cabinet with Wall Mounting Facility and has Built-in Thermal Overload Protection for preventing appliance burnout, Fail-Safe Circuit Design and Low & High Voltage Cut-off.
What we like
Ensures constant voltage of 230V supply
Can save up to 30% on electricity bills
Protection from power surges
Easy installation
4. Smart Choice
The budget stabilizer Copper Winding with Better Conductivity
• Easy to install
• Built-in smart panel with LED display
• Reduced power consumption
• Safe and reliable
This Monitor Voltage stabilizer is suitable for 1 Air conditioner and demands up to a 1.0 to 1.5-ton load. This Winding Stabilizer prevents the frequent tripping of your UPS system due to low voltage, high power factor, and harmonics. It is capable of reducing power consumption by up to 25% which in turn reduces the overall operating costs. This stabilizer is made up of high-quality copper winding which ensures better conductivity and power factor, resulting in enhanced performance of your inverter AC system. In addition, it has an epoxy-coated metal body that makes it durable enough to last long. Equipped with an IC controller and 5 – a years warranty this stabilizer can be easily installed at any place as per convenience.
What we like
High-quality copper winding for better conduct
Reduces power consumption by up to 25%
Utilizes the newest technology to protect all sensitive
Come with 5 -Years Replacement Warranty
5. Versatile Pick
The best stabilizer comes with Compact Design
• 99% Power Efficiency
• Has 3-year warranty
• High-performance unit
• Low noise level
The Candes Crystal Stabilizer comes with a wide operating voltage range from 130 Volts to 285 Volts. It is designed to support Air Conditioners (AC) up to 1.5 Ton inverter AC / Window / Split AC. This AC stabilizer also features HMC technology that offers a faster response time for overload/short circuit protection than conventional models. ITDS technology ensures that if there are any abnormalities in current flow or power changes then the stabilizer will cut off automatically without affecting other connected appliances.
What we like
It comes with HMC technology and offers a faster response time for overload/short circuit
Built-in thermal overload protection
This Stabilizer support Air Conditioners up to 1.5 Ton inverter AC / Window / Split AC
ITDS Technology automatically isolates the appliance in case of any failure.
Conclusion
Installing the best stabilizer for your 1.5-ton inverter AC is important for getting comfort and providing safety. We Discuss in this blog, the features of this stabilizer, advantages, specifications, and many other things that will give you help in buying the best stabilizer.
According to our recommendation, V-Guard VG 400 Stabilizeris the best stabilizer for 1.5-ton Inverter AC.